Helen Stock Floral Designs – Natick / Wellesley MA
---
Helen Stock Floral Designs is a custom floral design studio based in historic South Natick, Massachusetts, 5 minutes from Wellesley center and serving the floral needs of the Boston metropolitan area, including Brookline, Newton, Wellesley and Weston.
Please, call Helen at (781) 775-7794
One of the most creative floral designers in the Boston, MA area, Helen specializes in artistic flower arrangements and container gardens (outdoor and indoor planters) with an emphasis on the interplay of color and texture. Helen can provide flowers for a single event or create custom floral arrangements on a weekly or monthly basis for display in your home or business. Helen is known for both her knowledge and creativity with floral design and her kind manner.
Custom Floral Arrangements
All floral arrangements by Helen Stock Designs are custom crafted by Helen personally, and she will do her best to include colors and/or types of flowers you particularly like, subject to seasonal and market availability. Helen has a high level of expertise regarding types of flowers and plants and tries to select flowers that accent shape, texture and color, creating a unique arrangement. People are often captivated by floral arrangements that Helen creates, as they are anything but the typical, mass produced arrangements one often sees.
Floral Arrangements as Modern Art
A custom floral arrangement can make any interior, from classical to modern, more beautiful and welcoming.
In addition to her work as a floral designer, Helen Stock is a nationally regarded expert in antique Oriental rugs and a partner in Boston area based Quadrifoglio Gallery. With more than 30 years experience in the decorative arts, Helen brings a distinguished sense of scale and color to her floral designs.
Helen served as president of The Country Garden Club of Weston, MA during the club's 50th anniversary year. Helen received The Brister Bowl for her service to the club and Helen's flower arrangements, representing the club, have been exhibited on four occasions at Art In Bloom at The Museum Of Fine Arts Boston. Helen's 2018 arrangement for Art In Bloom at The MFA, done with a friend from the County Garden Club of Weston, was featured on the MFA's Instagram feed.
Residential & Commercial Floral Design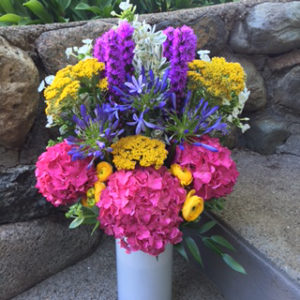 Helen's arrangements have decorated the Boston area Louis Vuitton stores and her window boxes and container gardens can be seen gracing residential gardens and store fronts in Wellesley, Weston and other areas in and around Boston.
Please call Helen at (781) 775-7794
Copyright © Dandelion by Pexeto